Our members have been active this year serving our local communities. We would be glad to have you and your family join us in our next event. We welcome all to be apart of our friendly fellowship. You can call, email, or connect with us through Facebook. Visit our contact page for further details.
_______________________________________________
Our 110th Anniversary Celebration, where the Rehoboth's past, present, and future came together, had a great turn out.
A member of Rehoboth UMC United Methodist Men's group attended the Veterans Hall of Fame Banquet in Concord, NC. Working at a vendor's table for the Strength for Service Organization, LW Smith passed out Strength for Service: To God and Country books. Rehoboth UMC is excited to see its members serving our community whether that is local or national. Visit
http://www.strengthforservice.org/
to read up on the devotionals specifically written for a variety of service workers.
Strength For Service
Pictured are Joseph Keels Elementary School principal and assistant principal, along with Rev Meegian Gossard and Judi Rose, Mission Co-Chair, delivering school supplies donated by Rehoboth UMC.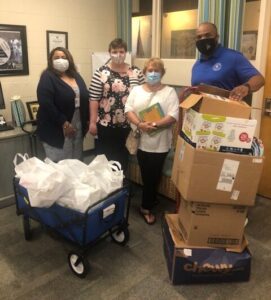 Meeting our New Senior Pastor Meegian Gossard on her first Sunday with us.
Our Food Pantry serves local communities Mon.-Thurs. each week.
Rehoboth received a gracious donation of items to our nursery from our very sweet friends Jessica, Bevin, and Jeremy.
We collected canned goods for our Food Pantry as apart of one our outreach projects. We also had a free drive-thru luncheon for our members and local firefighters where we gave out Strength of Service booklets to the first responders.