Rehoboth United Methodist Church has been located at 6911 Two Notch Rd in Columbia, South Carolina for over 100 years. The first members worshiped in an old wooden church until 1945, at which time it was replaced with a concrete block church.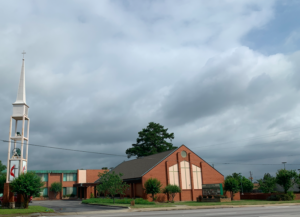 In 1967, the concrete block church was demolished to allow larger facilities to be built. This included a two-story building with a chapel, pastor's study, church office and church parlor. In 1977, three crosses were donated and installed on the exterior of the Education Building in memory of J.B. Smith, by his wife and children.
In 1951, the Dent family donated a parcel of land behind the church. Using this land, the Dent fellowship building was constructed to provide the church with a kitchen and dining facility. The building was dedicated in 1952 in memory of J. Marion Dent, Walker K. Dent, Henry S. Dent, and John Dent.
In 1985, a consecration service was held for the completion of the new Sanctuary. It was also at this time that Rehoboth hired its full time choir director, Toni Hollingsworth. Rehoboth members are active in local, district, and statewide ministries throughout the United Methodist conference. You will find a warm, friendly, congregation with a traditional worship style, adult choir, men's mentoring group, food pantry and Sunday School.
Join us on Sundays at 9:45 am for Sunday School, and at 11:00 am for congregational worship as we strive to help share the love of Jesus Christ with all we meet.