Rehoboth United Methodist Church has been located at 6911 Two Notch Road in Columbia, South Carolina for over 100 years. The first members worshiped in an old wooden church until 1945, at which time it was replaced with a concrete block church.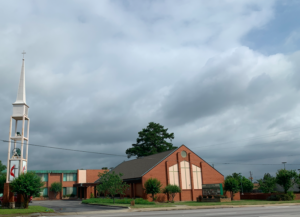 In 1967, the concrete block church was demolished to allow larger facilities to be built. This included a two-story building with a chapel, pastor's study,
church office and church parlor. In 1977, three crosses were donated and installed on the exterior of the Education Building in memory of J.B. Smith, by his wife and children.

In 1951, the Dent family donated a parcel of land behind the church. Using this land, the Dent fellowship building was constructed to provide the church with a kitchen and dining facility. The building was dedicated in 1952 in memory of J. Marion Dent, Walter K. Dent, Henry S. Dent, and John Dent.

In 1985, a consecration service was held for the completion of the new Sanctuary. It was also at this time that Rehoboth hired its first full time choir director, Toni Hollingsworth.
Rehoboth members are active in local, district, and statewide ministries throughout the United Methodist conference. You will find a warm, friendly congregation with a traditional worship style, adult choir, men's mentoring group, food pantry and Sunday School.
Join us on Sundays at 9:45am for Sunday School, and at 11:00am for congregational worship as we strive to help share the love of Jesus Christ with all we meet.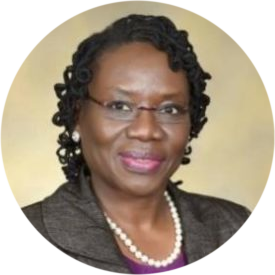 Rev. Dr. Constance "Connie" Barnes
Rev. Barnes is the third oldest daughter of Mary McKnight Nelson and the late Joseph Nelson. She is a native of Bonneau, SC and is a lifelong Methodist. She was nurtured in the faith at Bethel United Methodist Church in St. Stephen, SC, where she later accepted her call to ministry. Rev. Barnes holds degrees from Lutheran Theological Southern Seminary, Columbia, SC; SC State University, Orangeburg, SC; Trident Technical College, Charleston, SC, and a Doctor of Ministry, Hood Theological Seminary, Salisbury, North Carolina. She enjoys traveling, reading, exercising and mothering students. She has one adult daughter, Aprel Barnes, a pediatrician.
Rev. Barnes was appointed to the Rehoboth congregation in June of 2017. Prior to this appointment, she served as Director and Campus Minister of the Orangeburg Wesley Foundation, serving Claflin and South Carolina State Universities. She has served churches in the Marion District: the Brookgreen Charge (St. James, Heaven's Gate and Brown Chapel) and the Hartsville District: the East Camden Charge (St. Matthew and Emmanuel).
Email: cnbarnes@umcsc.org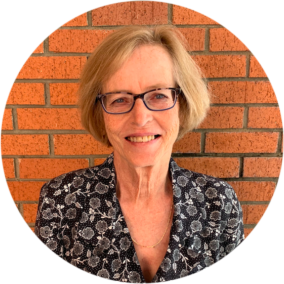 Elaine Comstock
Administrative Assistant/Nursery Attendant
Elaine has been working for Rehoboth UMC for more than 17 years. Most days you will find her in the church office taking care of the daily needs of our church. However, on Sundays you will find her spending her mornings with the littlest ones of Rehoboth UMC. Elaine is very involved in most of the missions and events that take place at Rehoboth and is an essential part of fabric that makes Rehoboth home to many.
We the members of Rehoboth United Methodist Church are an inclusive Christ-centered community of faith seeking to respond creatively to God's call to welcome, love, and connect others to Jesus Christ.
At Rehoboth United Methodist Church (UMC), what we believe is deeply rooted through a common heritage of other likeminded Methodist and Wesleyan bodies, each with their beginnings influenced through the lives and ministries of John and Charles Wesley. The Wesleys both served as Church of England missionaries, bringing a new sense of revival to England, America, and later the entire world.
Our beliefs are further defined through The United Methodist Book of Discipline, which states our church "reflects our Wesleyan way of serving Christ through doctrine and disciplined Christian life." The Discipline also defines the UMC as "a worldwide denomination united by doctrine, discipline and mission through our connectional covenant."
At Rehoboth UMC, what we believe is determined by our study of scripture, church tradition, reason and experience. Ultimately, scripture holds the deciding element in definitions, studies and belief.
We stand together worldwide with beliefs that are best defined by our common United Methodist Social Creed:
We believe in God, Creator of the world; and in Jesus Christ, the Redeemer of creation. We believe in the Holy Spirit, through whom we acknowledge God's gifts, and we repent of our sin in misusing these gifts to idolatrous ends. We affirm the natural world as God's handiwork and dedicate ourselves to its preservation, enhancement, and faithful use by humankind. We joyfully receive for ourselves and others the blessings of community, sexuality, marriage, and the family. We commit ourselves to the rights of men, women, children, youth, young adults, the aging, and people with disabilities; to improvement of the quality of life; and to the rights and dignity of all persons. We believe in the right and duty of persons to work for the glory of God and the good of themselves and others and in the protection of their welfare in so doing; in the rights to property as a trust from God, collective bargaining, and responsible consumption; and in the elimination of economic and social distress. We dedicate ourselves to peace throughout the world, to the rule of justice and law among nations, and to individual freedom for all people of the world. We believe in the present and final triumph of God's Word in human affairs and gladly accept our commission to manifest the life of the gospel in the world. Amen.
Food Pantry
Our Food Pantry is open Monday through Wednesdays from 10am-12pm. It is located in the Christian Life Center behind the church building, and open to anyone of need in the local community. Bring a picture I.D. and come meet our friendly volunteers that desire to satisfy your need.
The week leading up to easter is referred to as "Holy Week." To celebrate this sacred week, each year we at Rehoboth UMC host a drive-thru drama telling the story of the events of Jesus's death and resurrection. The several-day event occurs each year on Palm Sunday weekend.
Adult Choir
Our choir leads us in worship on Sundays. Join us! Practice is at 6:30pm on Wednesdays.
LETUS is a men's group that provides mentors fo high school-aged males. The group meets on Wednesdays at 6pm.
Sunday School
Our adult Sunday School class meets at 9:45 on Sunday mornings before worship.
Box Tops for Education
The church sends box tops to the Wallace Family Life Center in Wallace, South Carolina. Cut off your box tops and bring them into the church office!
The United Methodist Men collect coats for the homeless each year. If you have coats or other cold weather accessories you no longer need, you can donate them at the church office.
Cancelled Stamps Ministry
Bring your canceled stamps from letters and cards you receive to the church office, and the United Methodist Women group will send them off.
Teddy Bear Ministry
We collect teddy bears and other stuffed animals for children in the surrounding community and local hospitals. Donations may be dropped off at the church office.
St. Jude's Ranch for Children makes greeting cards for purchase out of old greeting card fronts. Instead of throwing those cards away, bring the torn off fronts to the church office.
Cell Phone Ministry
Through this ministry, used cell phones and accessories are collected and distributed to senior citizens. Please bring your donations to the church office.
Ronald McDonald Drink Tabs
Save the tabs from your aluminum cans for the Ronald McDonald House. The church office has a collection box to take your donations
Ears and Eyes Ministry
The Lions Club collects eyeglasses, hearing aids and accessories for those in need. Donations may be dropped off at the church office.
Stay connected with us through Facebook and Twitter:
Visit Rehoboth UMC
This Sunday
Rehoboth United Methodist Church
Check out our Weekly Sermons
Sermon 9/6 Resolving Conflict
Sermon 8/30 Summer School For Disciples Lesson 6
Sermon 8/23 Summer School For Disciples Lesson 5
Sermon 8/16 Summer School For Disciples Lesson 4
Sermon 8/9 Summer School For Disciples Lesson 3
Sermon 8/2 Summer School For Disciples Lesson 2
Sermon 7/26 Summer School For Disciples Lesson 1
Sermon 7/19 Living With The 3 Ps
Sermon 7/12 The Present/Presence Help Of God Part 2
Sermon 7/5 The Present / Presence Help of God
Sermon 6/28 The God Who Sees, Hears and, Intervenes
Sermon 6/21 All in the Same
Boat